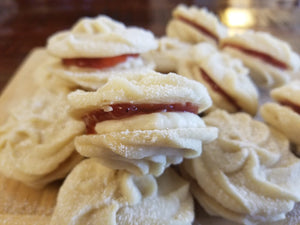 VIENNESE WHIRLS
Indulge in the irresistible taste of homemade Viennese Whirls from Britalicious. Made with the finest ingredients and baked to perfection, our Viennese Whirls are the perfect sweet treat for any occasion. Each bite melts in your mouth, revealing the delicate buttery flavor and light, crumbly texture that make these biscuits so special.
Our Viennese Whirls are made in small batches to ensure freshness and quality. We use only the best ingredients, including real buttercream, to create a delicious and authentic taste. They're perfect for an afternoon tea, a snack with friends, or as a sweet pick-me-up.
Try our homemade version of the classic Viennese Whirls. These delicious biscuits are made per order to ensure optimal freshness. Order now and taste the difference of homemade Viennese Whirls from Britalicious.